14 June 2022 – The sea campaign for enlarging the KM3NeT/ARCA submarine telescope which was started on June 2, has been completed today with a full success. As a result, data taking with ARCA has been resumed with 19 detection units in operation!
This represents a major step forward for the collaboration, as this was the first time that a 2-weeks campaign was performed. The scope of the operation in fact was twofold: to upgrade the submarine network, by installing 2 new junction boxes in replacement of the junction box that we had been operating so far, and to install 11 new detection units (DUs). The operation therefore took place in two steps: after the first round of activities for installation of the junction boxes and the first 4 DUs, the ship went back to shore to pick up the remaining set of 7 DUs.
The campaign was performed with Handin Tide, of the FUGRO company, which had already performed the previous sea campaign for KM3NeT/ARCA last year, sailing off from Malta.
All planned activities were performed with full success, including ancillary operations such as the replacement of one autonomous acoustic beacon on the sea floor. A speed record was also established, with 7 detection units installed, connected and unfurled in less than 48 hours!
As a result of the campaign, the size of ARCA has more than doubled: It now comprises 19 detection units in operation, equipped with more than 10,000 photomultipliers,
The KM3NeT collaboration wishes to thank the Handin Tide crew for their top-level performance, the KM3NeT teams which worked tirelessly offshore and onshore to reach this remarkable success, as well as all teams which work so hard at the almost 30 integration sites of the collaboration to produce the DUs for building the apparatus.
Below is a gallery of pictures from the campaign. A log of the activities while the operation was ongoing is available on our blog.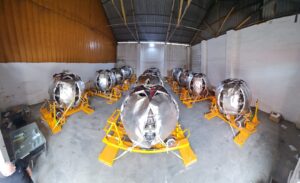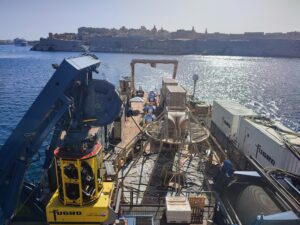 Deployment of one of the junction boxes installed in the campaign.