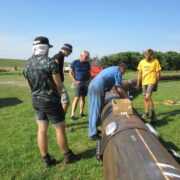 10 September 2020 – Like in all oceans, deep in the Mediterranean Sea turbulent waves occur which influence under water life because they transport water of different temperatures and important nutrition. Understanding the occurrence and behaviour of the 'underwater waves' is the objective of Hans van Haren and his team of the Royal Netherlands Institute for Sea Research NIOZ – member of the KM3NeT Collaboration (see article in Europhysics News 51/2 ).
The team has developed a large mooring construction comprising an array of temperature sensors that during two years will precisely measure the temperature of the deep sea water near the KM3NeT site off-shore Toulon, France. The measured temperature profiles will reveal the existence and behaviour of underwater turbulence and internal waves at the site. From a distance the image of the mooring resembles  that of the KM3NeT array of optical sensors (see picture below).
The mooring consists of a 70 m diameter large steel ring, holding a network with 3000 high-precision temperature sensors distributed over 45 vertical lines, 125 m high and 9.5 m apart. On land this already looks quite impressive (see drone video below) but in sea the whole construction will fill a half cubic hectometre seawater volume. The installation of the mooring has some resemblance with the installation of the sensor array of KM3NeT. This is not surprising since the NIOZ  is the institute where the KM3NeT compact deployment method was invented first. The lines with temperature sensors are compacted in small packets that are anchored on the seabed. Then they unfurl one by one to their full lengths. The major difference with the KM3NeT deployment technique is that the mooring structure of 45 lines is deployed as a whole, while for KM3NeT each line is deployed separately.
The deployment of the temperature mooring is planned for the second week of October after assembly in the harbor of Toulon. Stay tuned!
See also : a drone video by Hung-An Tian, NIOZ PhD student at

Pictures (courtesy NIOZ): After assembly, the mooring is towed to the deployment site and deployed using a custom-made 'parachute'. Once in position, the lines will automatically unroll to to their full length after five days.