Giorgos Androulakis
(1978 – 2021)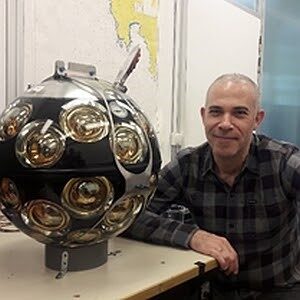 With shock and great sadness the KM3NeT Collaboration learned that our colleague and dear friend Giorgos Androulakis passed away suddenly on the 9th of July 2021, aged 43.
Giorgos joined KM3NeT in 2014 as a member of the NCSR "Demokritos" in Athens, Greece and from the start he became deeply involved with the construction of the detectors. In 2017, he took over as the QA/QC Manager of the Collaboration, coordinating the activities for quality control during detector construction and operation and managing a team of local quality supervisors at the institutes involved in the detector construction. He was a key long-term member of the KM3NeT Management Team and the Steering Committee.
Giorgos was unfailing in his help to the institutes when setting up their facilities for the detector construction, to help understand the origin of problems when they arose, and to support people with the intricacies of the database. On the management side his careful following of non-conformities and probing questions would often lead us to an understanding and a solution for the issue of the day. His logical approach, insight and sage advice was invaluable for many important decisions.
The recent successes of the collaboration in the construction of the seafloor infrastructures and detection units owes so much to his skills, dedication and hard work.
Giorgos was greatly appreciated by all the members of the collaboration; he was the oil that kept us all moving smoothly in the right direction. Many of us mourn a good friend. Personally, I will certainly miss our discussions over a few beers after a hard day at the Collaboration meeting and especially his unique and ironic sense of humour.
On behalf of the KM3NeT Collaboration I would like to express our sincere condolences to his family and friends at this difficult time.
We will miss him dearly.
Paschal Coyle, Spokesperson KM3NeT Collaboration