6 June 2022 – The first round of activities of the ongoing sea campaign at ARCA has been completed.
In a summary, in the past week-end:
we installed two submarine junction boxes, one of which in replacement of the temporary junction box that we have used so far
the temporary junction box has been safely recovered
we moved all connections of the detection units already installed on the sea bed onto the new junction boxes
we installed 4 new detection units (where, by installation, one should understand that each detection unit was lowered to the bottom of the sea, carefully placed on the sea bottom, connected to the junction box and unfurled to reach its nominal, upright configuration)
Each of the steps above comprised dedicated tests, requiring careful coordination of the activities of the onshore and offshore teams.
And… the campaign is not yet finished! The ship is now heading back to Malta to load an additional set of detection units to install.
Stay tuned, as there will be more to report in the next days!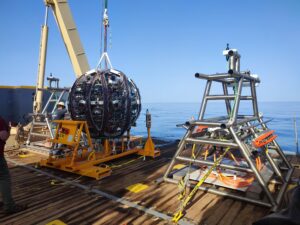 The first detection unit installed in this campaign gracefully splashes into the water, to start its journey down to 3,500 m depth.