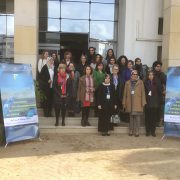 On February 11th,  KM3NeT celebrates wholeheartedly the International Day of Women and Girls in Science.
This week KM3NeT researchers have kicked-off the implementation of a gender equality plan for KM3NeT at a meeting in Rabat, Morocco.
Mauro Taiuti, Spokesperson of KM3NeT: "We are a diverse community with significant contributions by women scientists and engineers and aim for a balanced representation of women at all levels, from students to leadership. Talented women are most welcome to join KM3NeT in the search for cosmic neutrinos."
Join us!
On this #internationaldayofwomenandgirlsinscience #KM3NeT wholeheartedly thanks its female scientists and engineers for their significant contributions to the search for cosmic neutrinos!#womeninscience #womenintech #womeninphysics #womenscienceday pic.twitter.com/SArY3zRToZ

— KM3NeT Neutrino (@km3net) February 11, 2018