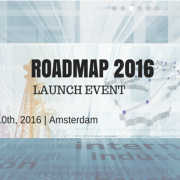 10 March 2016 – Today, at its launch event at the Royal Netherlands Academy of Arts and Sciences in Amsterdam, the European Strategy Forum for Research Infrastructures (ESFRI) announced that KM3NeT 2.0 is selected for the 2016 ESFRI Roadmap for Research Infrastructures.
The ESFRI Roadmap identifies new Research Infrastructures of pan-European interest corresponding to the long-term needs of the European research communities. Its mission is to ensure that scientists in Europe have access to world-class facilities for cutting-edge research. To be eligible for the roadmap a research infrastructure should have at least three countries with funding commitment and political support. After a rigorous selection process in which projects were assessed for scientific excellence, pan-European relevance, socio-economic impact, e-needs and maturity level, KM3NeT 2.0 is amongst the 21 chosen projects.
Read the full press release (or in pdf )
Pictures taken during the launch event.