3 June 2022 – A new sea operation was started yesterday aiming at a significant enlargement of the ARCA neutrino telescope.
This is a major step forward for the Collaboration, as this is the first time ever that we launch a 2-weeks campaign. The scope of the operation in fact is twofold: upgrade the submarine network, by installing 2 brand-new junction boxes in replacement of the junction box that we have been operating so far, and to install new detection units (DUs). The operation will therefore take place in two steps: after the first round of activities for installation of the junction boxes and the first 4 DUs, the ship will come back to shore to pick up an additional set of DUs.
Handin Tide, which has already performed the previous sea campaign for KM3NeT ARCA last year, is the ship which will conduct this operation.
The ship left the port of Malta yesterday afternoon.
Remain connected, as we will be posting news about the operation while the action goes on – on our blog and on our social channels.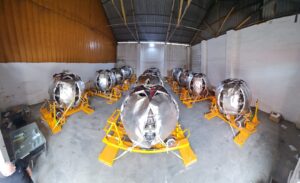 Loading of a KM3NeT DU onto the Handin Tide.